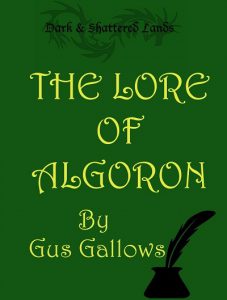 The Lore of Algoron – CreateSpace store (Get $4.99 off the $24.99 price only at CreateSpace.com store using the following discount code: 4B67JWL7)
Publication Date:Oct 20 2014
 ISBN/EAN13:1502915103 / 9781502915108
 Page Count:672
 Binding Type:US Trade Paper
 Trim Size:6" x 9"
 Language:English
 Color:Black and White
 Related Categories:Fiction / Fantasy / Epic
The Lore of Algoron is a compilation of Gus Gallows' three novels, The Price of Honor, The Price of Dignity, and The Price of Love. These three novels take you into the world of Algoron for a series of adventures from the honor bound Minotaur of Ganth in the Price of Honor,  through the goblin uprising within the mines of Dolund'ir in The Price of Dignity, to the Lair of the great copper dragon, Phintomini, in the Price of Love.
Algoron is the world within the Multi User Domain (MUD) called Dark & Shattered Lands (DSL). These three books are based on the role play as performed by the players of this game and the author who was, at the time, the director of role play under his other pseudonym, "Grokle".
Dark & Shattered Lands is still up an going strong and has been since the 1990s. It is a community of players and implementers that not only plays together, but on an annual bases gets together for a weekend long party called DSLCon.
You can find out more by visiting the Dark and Shattered Lands website.